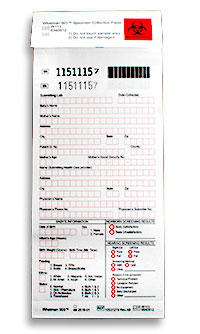 Quality Control
Printing of paper for newborn screening is a very critical production step that is strictly defined in the CLSI standard. Inappropriate printing technologies may have a negative impact on the characteristics of the paper resulting in false test results. 903 Sample Collection Device(s) paper is printed and provided as a controlled package that includes detailed demographic information about the newborn.
Our quality control team routinely tests a number of cards from each printed job to evaluate blood absorption time and circle size. Only if all test results are within agreed parameters can the card production be released and dispatched to the customer.
Transportation and Storage
903 Sample Collection Device(s) Neonatal Blood Collection cards provide a safe and efficient method for easy sample collection, identification, and transport.
Newborn data is documented on the demographic portion of the form, which is attached to the Whatman 903 sample area. This product design reduces the likelihood of sample misidentification.
Transportation of newborn samples collected and dried on 903 cards can be safely mailed in non- specialized packaging for shipment to a central laboratory for processing. This significantly eliminates the high costs of overnight delivery on dry ice. Air transport is also not a concern as dried blood samples bound to the paper are classified in the lowest risk category by the International Air Transportation Association (IATA).
Blood samples dried on 903 Sample Collection Device(s) cards for protein analysis should be stored at – 20°C in a sealed bag with a desiccant pouch to eliminate the possibility of degradation over extended periods of time (CLSI LA4-A5).